10-Years of Chiropractic for Our Community
10-Years of Chiropractic for Our Community In Porirua
This month we celebrate 10 years since Chiropractic Balance first opened. It has been a privilege to be able to provide Chiropractic care in Porirua to all of the people who have come through our doors. During this time we have had many changes with Chiropractors' and reception staff, I have been on maternity leave three times, we have had lockdowns, moved premises, and renovated. But the most important thing that hasn't changed is our Chiropractic care that has supported thousands of people towards better health.
The one group of people to who I am extra grateful are the ones who have chosen to make regular Chiropractic adjustments part of their lifestyle. Through all of the changes, you have been our constants. We are always smiling when your name is in the appointment book and you come every week, to every 6 weeks to get tuned up. You understand that your Health is your Wealth and that Chiropractic Care supports your body working the way it is supposed to. All of these people have been coming regularly for between 2 and 10 years!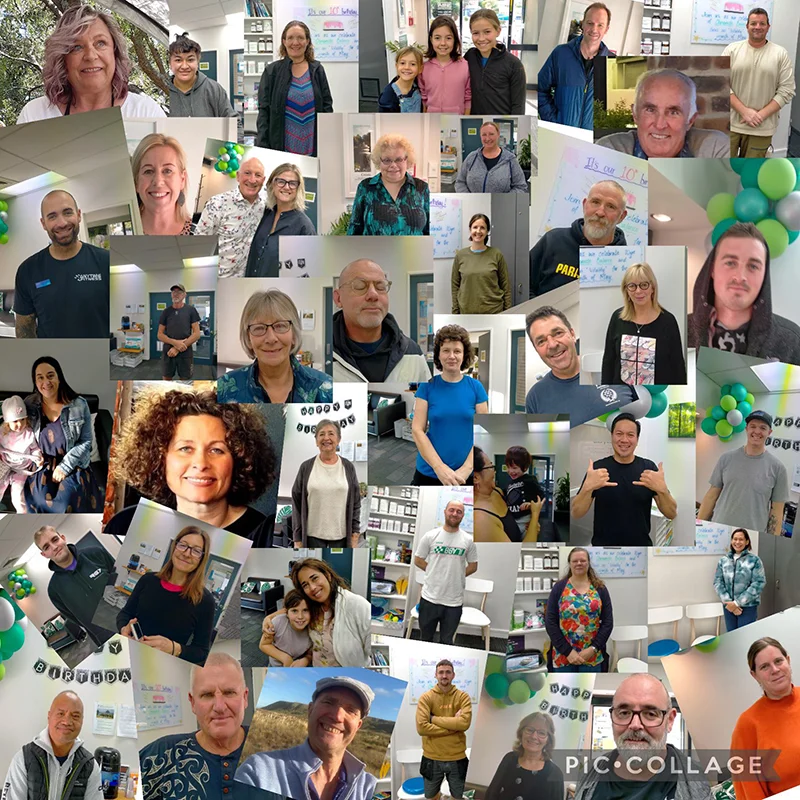 ---
So Why Do These People Need To Keep Coming Back? Why Hasn't Chiropractic 'Fixed' Their Problem In Porirua?
Many people's understanding of Chiropractic is that it is about putting your spine 'back in place' and then it should stay like that unless you have another injury.
In reality, the main goal of a Chiropractic assessment is to identify areas of your spine that aren't moving as they are supposed to. When movement isn't optimal, it can interfere with the nervous system's ability to function properly which can impair healing.
A Chiropractic Adjustment doesn't put a 'bone back in'. The adjustment is putting a specific input into the body to begin to retrain the movement. Like building up your muscles with workouts, each adjustment is a training session, and over time with repetition of Chiropractic adjustments, spinal movement can continue to improve, and your ongoing health can benefit.
Things that reduce spinal movement include being sedentary, aging, and stress. Therefore once your spine is moving optimally, regular Chiropractic checkups can help support ongoing healthy spinal function even in a busy modern world.
When our spine moves well, our nervous system functions better, and our body has the best chance of healing as it is supposed to.
The people who choose to include Chiropractic Care as a regular part of their lifestyle have experienced this benefit and want to continue to be on the offense rather than the defense with their health.
We asked our long-term practice members why they keep coming back, here are the top 50 words from their comments below.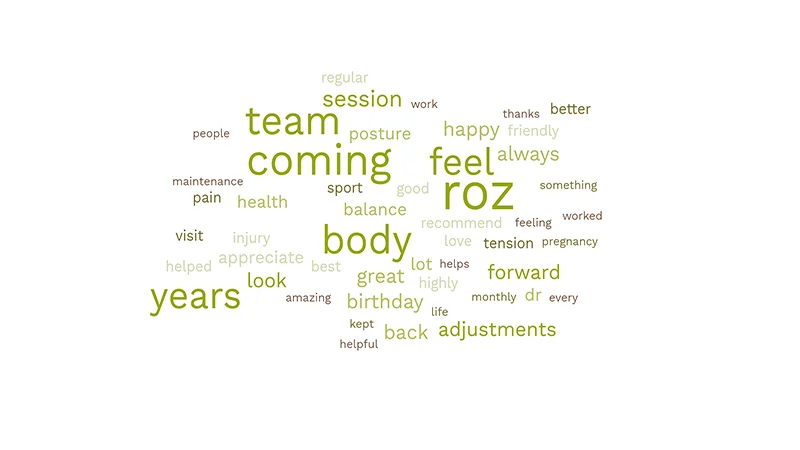 Thank you to each and every one of you for allowing us to support you with your health journey and we look forward to what the next 10 years may bring.
OFFICE HOURS
---
Monday
9:30am - 1:30pm

---
Tuesday
7:00am - 6:00pm
---
Wednesday
9:00am - 6:30pm
---
Thursday
7:00am - 6:00pm
---
Friday
7:00am - 2:00pm
---
Saturday
8:00am - 2:00pm
---
Sunday
Closed